Owning a home entails spending weekends completing chores or locating dependable service tradies to complete things on your behalf. Gutters serve a critical part in the protection of your property via ensuring your roof functions correctly by collecting and safely re-directing all the rain water off it.  Cleaning your cutters should be included in your bi-annual home maintenance routine especially before Queensland rain season and Fire season.
Typical Queenslanders, should be able to clean your gutters by yourself if your home is not too large, you have the physical ability to climb ladders, and you are in good shape at the time. While keeping in mind using ladders and climbing onto your roof is one of the most dangerous activities you can do at home, use these simple steps and questions to ask yourself to assess the risk whether or not it is time to contact a professional to do the job. Read on to learn more!
What Do Gutters Do?
Gutters that run along your roof's edge are intended to collect rainfall and transport it to downspouts that guide the water away from your house. Guttering protects the interior of your home by preventing moisture from collecting on the roof, which can lead to mould growth or structural damage within the walls and ceiling of your home. Rain and debris are prevented from dripping onto your windows and the sides of your house, or from collecting at the base of your house. Dripping rainfall can generate dirty-looking windows and sidings if this function is not there. It also has the potential to cause moisture damage over time. Our homes, believe it or not, are entirely watertight and rely greatly on the performance of our gutters to keep them dry and protected from the elements. If the water flowing down your drain pipes is allowed to collect along the base of your home, it can cause damage such as erosion and flooding over your property and neighbouring properties, wreaking havoc on your neighbourhood. Additionally, the rain from your roof is directed out using the rainwater catchment system and not the local sewage system, which stops overloading.
How to Clean Your Gutters?
Cleaning your roofs gutters involves a:
Sturdy ladder with enough height to safely reach
Gloves (very important there can be prickles, splinters and sharp rust bits of metal or debris up there and your skin will be soft from working in water, you just can't be to careful)
Garden hose that reaches all sides of your home (water blaster on low pressure if you do not have enough water pressure)
Something to collect debris in, such as a tarp or plastic bucket.
Council greenwaste bin to dispose of the debris
If you want, you can use small shovels or even a spatula to scoop up debris. You'll also want to have a scrub brush or sponge with vinegar cleaning solution (do not use bleach as the water from your roof can end up in water ways, rivers and the sea without being cleaned).
Are you all set to go? Make your way around your property, scooping out the leaves, pine needles, palm seed pods and leaves and other debris that has accumulated in the gutters.
Basic Ladder Safety
Make certain to follow all ladder safety precautions! The following are examples: putting the ladder on stable and level ground, without stepping on the top two steps, not reaching out too far, and working in dry weather. In the event that you need to use an extension ladder, avoid putting it directly on the gutters since it could cause damage or the gutters could shift and cause the ladder to slip.
Continue…
Using a garden hose, wash out the gutters and downspouts after you've cleared away all of the trash and debris. Water should easily flow through the downspouts at this point, and you should inspect your gutters for leaks, cracks, bowing at this time. Keep an eye out to observe if any water collects in a pool after exiting the downspout extension pipe. You'll also want to look for any signs of mould. This could be a sign that water has accumulated in your gutters. Mold and other dirt can be removed with a scrub brush or sponge, as well as a vinegar solution or water. Check with your local council if using vinegar is ok first.
Gutters should normally be cleaned twice a year, we recommend the following for Queensland residents: before the wet season (November to April) and before QLD fire season in according to the manufacturer or installer. These times can change so best to get in early than late. If your roof collects debris or you live in a rainy micro climate, you may want to inspect your gutter system three to four times a year to ensure that it is in good working order.
Make Repairs As You Go
Gutter or downspouts that have come loose can be reattached to your home. Some leaks can be repaired by caulking them shut. If water pools or flows into an undesirable area, downspout extenders can be rerouted, relocated, or completely replaced. Gutter guards, which enable water to flow through while preventing debris from accumulating in your gutters, may be an option for you to investigate. Visually inspect your roof and eves, look for termite damage and hail damage also, best to get broken tiles, loose tin fixed or rotten wood replaced as soon as possible. Small issue can very quickly turn into massive disasters often at the most inconvenient times.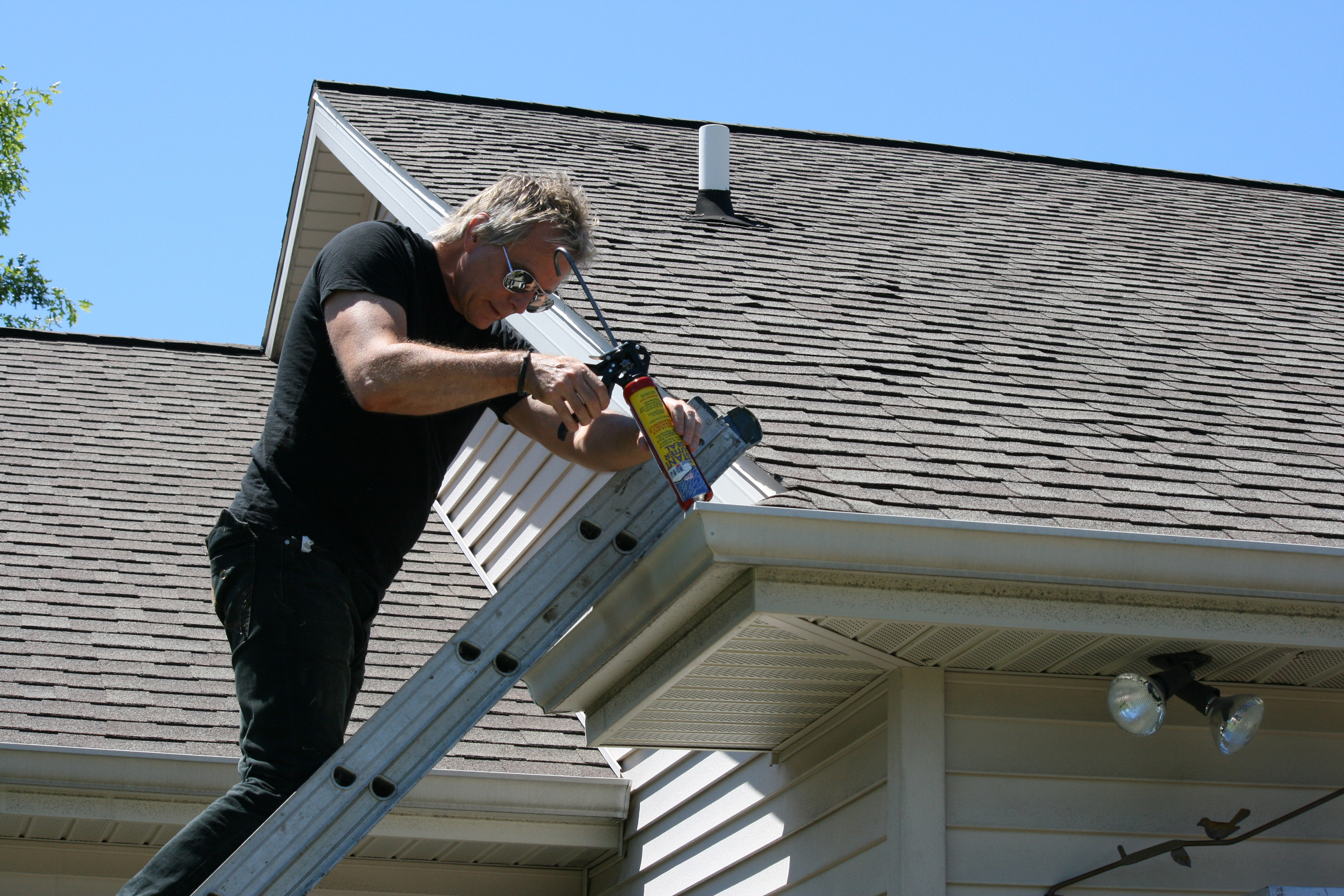 When to Hire Someone, it's a dangerous job after all
Here are some questions to ask yourself to determine whether it is time to call in a professional gutter cleaning company:
Are you confident in your ability to climb ladders to reach your gutters?
If so, do you have hoses that can reach all four corners of your house?
Ensure that your gutters are in reasonable condition (not sagging or leaking and neither damaged or rusted, nor in need of replacement) before you proceed.
Do you have the confidence to take care of any necessary repairs?
Do you have the time to do the job safely and before those seasons start?
Will your DIY job end up costing you more than hiring a service?
If you break something can you afford to repair it?
If you get injured can you afford the time off work?
If you have answered no to one or more of these questions, you may want to find a gutter cleaning company to help.
How to Find a Gutter Cleaner
If you have made the decision to hire someone to clean or repair your gutters, take some time to conduct some preliminary research. Finding dependable, professional gutter cleaners in your local area by searching in google, BING, duckduckgo or your community Facebook page is a fantastic way to start. A useful option is to conduct a Google search and read customer reviews. Choosing a company that offers insurance is always a wise decision. Small businesses may be extremely busy in the spring and fall, so contact as soon as possible!
View this post on Instagram